Hermes Garden Party bag TPM Rouge pivoine Country leather Silver hardware
Product code : msgp2601008

International
shipping

Tax Refund Available at Boutique

Credit Card Available at Boutique
All products are Brand new and Authentic.
This online boutique shares the same stocks as L'ecrin Boutique Tokyo.
This means that not all stocks featured online are physically available for viewing in our Singapore boutique.
We welcome any enquiries on any item that you may be interested in.

Hermes Garden Party TPM.
New colour from Hermes 2014 Autumn Winter collection, Rouge Pivoine, refers to "Peony" in French.
Canvas & all-leather Garden Party bags, a casual bag for both men and women.
Simple design with processed interior to better withstand stains.
Perfect for all occasions and easy-to-use.
Hermes introduced its 2014 annual theme called Metamorphose.
The company's ethos was constant change, searching incessantly for ideal beauty through colours, hence their relentless spirit to constantly create amazing colours such as Rouge Pivoine.
A field of beautiful bright red peonies in full bloom - without a doubt everyone will be enthralled by its beauty.
A fairly new leather that was introduced in 2012.
The beauty of Country leather lies in it is fair firmness.
Savour the soft and classy texture of the Hermes leather and discover how this large-grained leather is also a hardy material as it is resilient to scratches and dirt even when used daily.
Add a splash of colour to your wardrobe with this vibrant colour that is named after flowers - just like Bougainville and Capucine.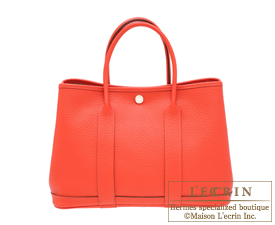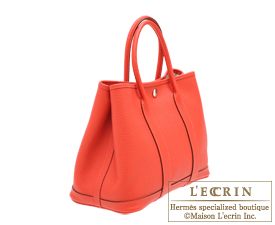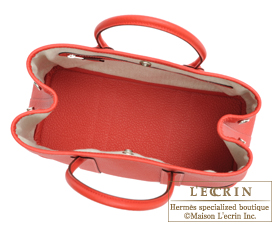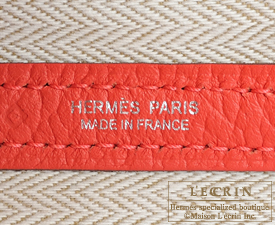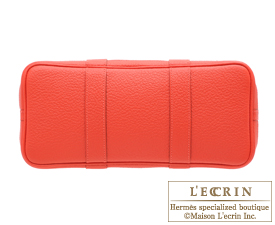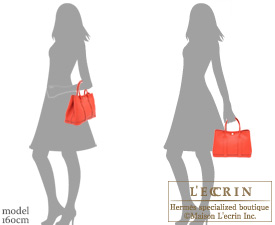 Model
HERMES GARDEN PARTY TPM
---
Color
Rouge pivoine
---
Material
Country leather
---
Hardware
Silver
---
Measurements
(W)30×(H)21×(D)13cm
---
Accompanied by the original Hermes
Box,Cotton bag
---
※All measurements are approximate.